One of the most-common conditions that I treat as a physical therapist is diastasis recti (DR). This is a condition that affects up to 60% of women either during pregnancy or postpartum. Fortunately, there's a lot that exercise can do to help this condition if done correctly. Today I wanted to share with you 3 ab exercises you should definitely NOT do with a DR, and what you should do instead to tone your abs and help heal this separation.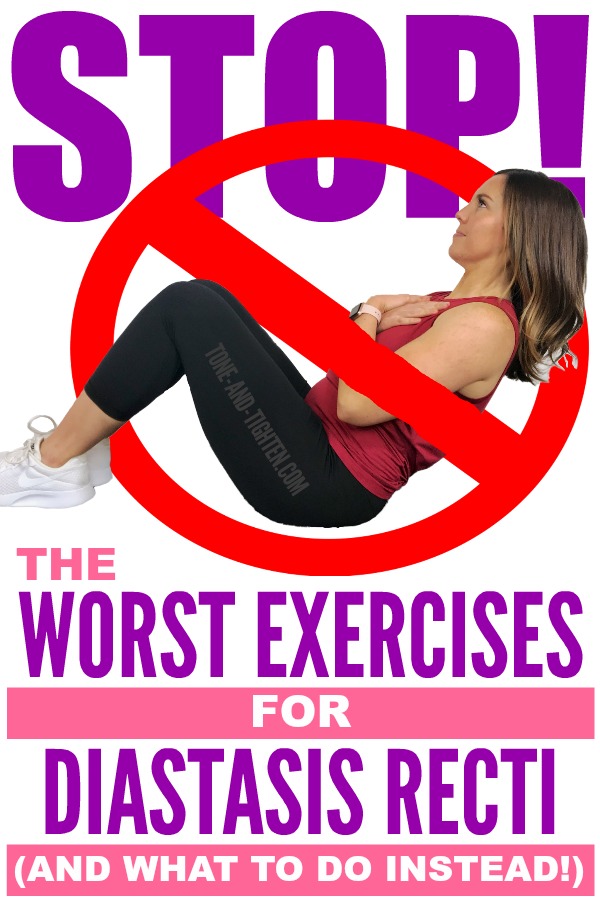 *** As always – if you have recently delivered GET CLEARANCE FROM YOUR DOCTOR BEFORE STARTING THIS OR ANY WORKOUT PROGRAM. 6 weeks post-partum is the most generally-accepted "safe time" to resume some of these activities, but it's always best to have your doctor's clearance for your own unique situation. ***
WHAT IS A DIASTASIS RECTI?
Your abs and abdominal cavity are made up of four muscles. The one that sits out in front is called the "rectus abdominis" (RA) and goes from the bottom of the rib cage to the top of the pelvis. This is the "six pack" muscle that's primarily active in crunches, sit ups, and other exercises that bring our ribs towards our pelvis (trunk flexion).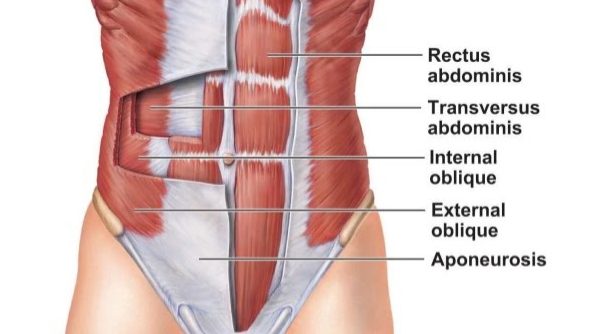 This muscle is composed of two muscle bellies that run vertically next to each other and are connected by a tendon-like connective tissue called the linea alba.
In instances of strenuous pressure on the abdomen and abdominal cavity the connective tissue between the halves of the rectus abdominis can be stretched, pulled, and eventually even separate. This is what we refer to as a "diastasis recti".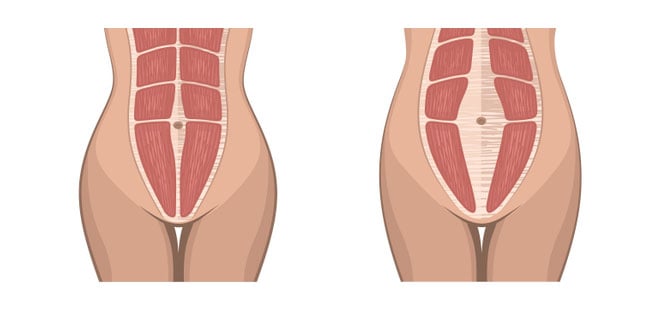 …