How do you get rid of muscle knots? What are muscle knots? Why do you get muscle knots? 10 simple things you can do right now at home to eliminate your muscle knots. Learn all about this common condition in your neck, shoulders, and back from the doctor of physical therapy at Tone-and-Tighten.com.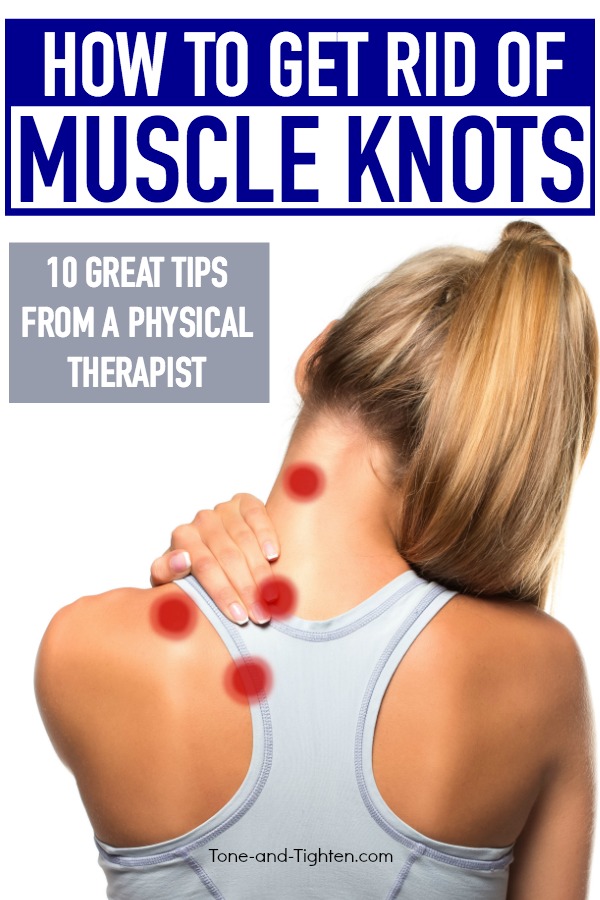 HOW TO GET RID OF MUSCLE KNOTS
Heat – promotes blood flow and relaxation.
Stretching – promotes tissue elongation and relaxation in the knotted area.
Exercise – fatigues the area and helps the muscle to "reset".
Postural corrections – stretching and strengthening exercises to correct posture and eliminate the strain causing the knot in the first place.
Massage – promotes relaxation and blood flow into an area.
Trigger point therapy – causes the muscle knot to "release".
Keep reading below for detailed descriptions and video demonstrations of each of these points.
=========================================
7 Days of awesome at-home workouts and delicious dinner recipes – delivered daily right to your inbox!
Sign up for our all-now "7-Day Home Workout and Recipe Plan" by clicking RIGHT HERE!
=========================================
WHAT ARE MUSCLE KNOTS?
Muscle knots are hard, sensitive areas in our muscles where the muscle is in a shortened, contracted state even when the muscle is supposed to be at rest.
These muscle knots are commonly found in our neck, shoulders, upper back, and hips and are a common condition that affect millions of people everyday.
These tight areas of contracted muscle are also referred to as "trigger points" as oftentimes touching these areas can "trigger" pain in different location in your body.
Muscle knots can cause a painful, aching sensation in the muscle that can refer to nearby joints as well. When you touch it it feels tight and contracted despite your efforts to relax that area.
Muscle knots can also feel swollen and inflamed and can contribute to other associated problems including headaches, stress, anxiety, and difficulty sleeping.
Muscle knots are a common condition that I see in patients in my physical therapy clinic all the time. Fortunately there's a lot that you can do about them to treat them safely and effectively right at home!
Today I wanted to share some of my favorite tips, tricks, and exercises to help you get rid of muscle knots in your neck, shoulders, and upper back. I've also included video demonstration of each of these methods to ensure you do them correctly and maximize your outcomes….