Check out this fast-paced leg circuit to get your legs into great shape. It will strengthen and tone your legs for amazing definition. Your legs will be worked from all angles to tone and tighten every muscle. This leg circuit can be completed at home with no equipment. Start today to shape the best legs of your life.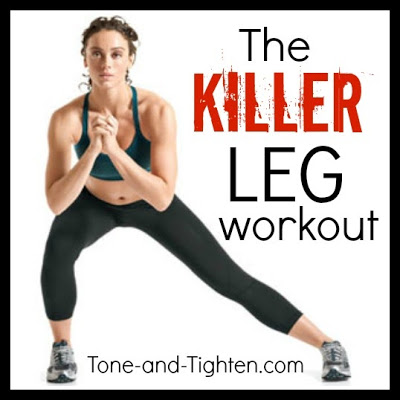 At-Home Leg Circuit Workout
Jumping Jacks

Squats

Forward lunges

High knees

Lunge kicks 

180-degree jumps

Sidestep kicks

Standing calf raises

Reverse lunges

Jump squats

Side lunges

Pli

é

squats
Keep reading for a step by step guide with pictures, videos, and descriptions of each of these exercises.  
===========================
7 Days of awesome at-home workouts and delicious dinner recipes – delivered daily right to your inbox.
Sign up for our all-now "7-Day Home Workout and Recipe Plan" by clicking RIGHT HERE.
===========================
Friends don't let friends skip leg day.
Looking for a way to strengthen and tone your legs? Look no further. This workout will have your legs burning in NO time.
Today's leg day is an at-home challenge without weights. You can sculpt amazing legs right in your own living room. 
It's convenient and fast, with no equipment needed, you have no excuse to not give this one a try. Your legs will thank you after, but g
et ready for this one- it's going to be a killer.
Try it out and let me know what you think.
…