You'll love this easy grill recipe– steak that's loaded with flavor and bright peppers grilled to perfection. Marinated steak and veggie kabobs are great after a workout to give your body protein and iron and many important vitamins and minerals to boost your energy and build muscle. Try this healthy kabob meal on the grill.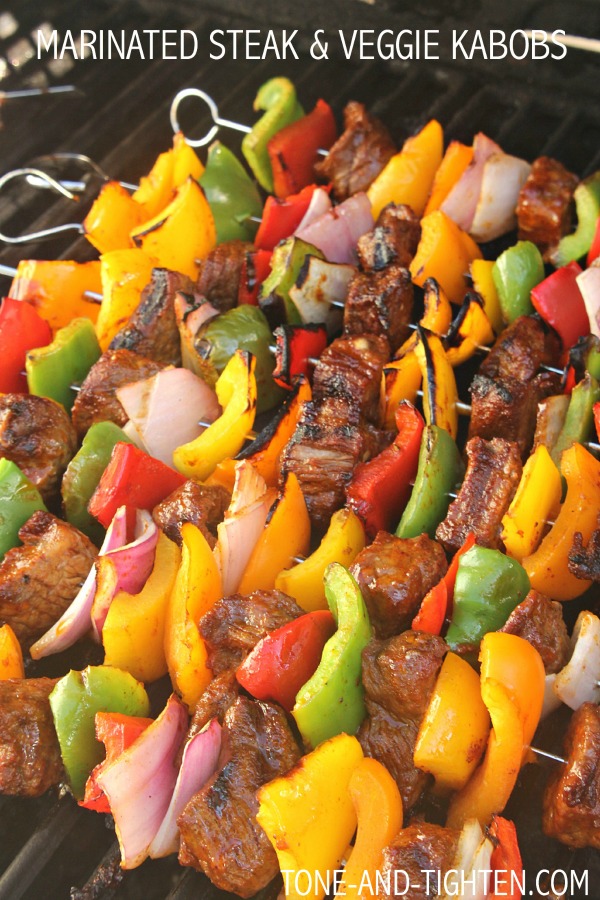 Marinated Steak and Vegetable Kabobs
Keep reading for the recipe.
===========================
Eliminate guesswork and confusion and start seeing results.
Subscribe to Tone-and-Tighten.com and get our FREE "7-Day Workout and Healthy Menu Plan" delivered daily right to your inbox. CLICK HERE to get it.
===========================
Fire up the grill.
Grilling can be healthy if you skip the processed fatty meats such as sausage and hot dogs. Add some veggies and you can get a great balanced meal loaded with healthy nutrients. 
These kabobs are a great example, they are loaded with flavor, but are actually good for you too.
Plus- grilled peppers are one of my favorite ways to eat vegetables. So tasty and nutritious. 
You won't be able to get enough of these steak and veggie kabobs.
Make it a family event and get some fresh air and exercise while you're outside grilling tonight. 
 …