Lean protein, tons of veggies, and made in only one-pan for a healthy dinner in a hurry. Healthy chicken fajita bake is the perfect meal for a busy day, after a killer workout, or even saved as leftovers for a filling lunch.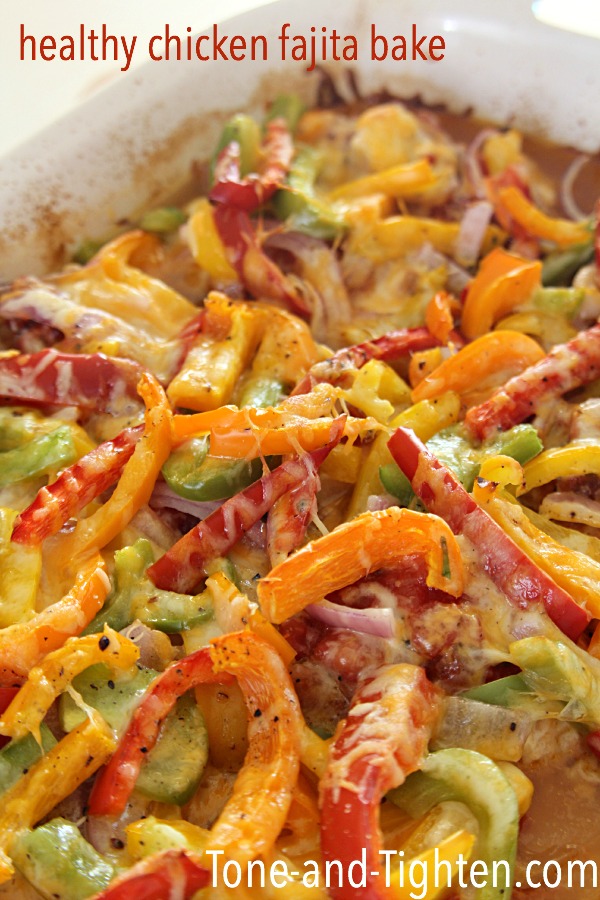 Yum
 
Healthy Chicken Fajita Bake
Keep reading to get the recipe, directions, and nutritional facts below. 
===========================
Eliminate guesswork and confusion and start seeing results.
Subscribe to Tone-and-Tighten.com and get our FREE "7-Day Workout and Healthy Menu Plan" delivered daily right to your inbox. CLICK HERE to get it.
===========================
Any dish that combines your protein and vegetables all in one pan for an easy dinner is a winner in my book.
This is one of my go-to meals when I need a healthy dinner in a short amount of time.
Healthy chicken fajita bake is the perfect meal for a busy day, after a killer workout, or even saved as leftovers for a filling lunch. 
This recipe combines healthy chicken, nutrient-rich veggies, and amazing flavors for an easy, yet satisfying meal. 
The chicken is flavorful, wonderful, and delicious – I know that you will love it.
HEALTH BENEFITS OF CHICKEN
Chicken is a popular white meat known for it's high protein content that is simple to prepare, delicious, affordable, and extremely versatile. There's so many meals you can make with chicken- and along with all the many uses of chicken, comes many health benefits as well.
Chicken is rich in phosphorus, protein, niacin, riboflavin, vitamin B6 and B12 as well as some other B vitamins, iron, zinc, magnesium, omega 3's and more. 
Chicken is a great way to consume lean protein to aid in muscle development and growth. Protein also helps reduce feelings of hunger and boosts your metabolism, which each help in weight loss. 
Chicken is healthy because it is a lean meat, which means it has less than 10g of fat per serving- and chicken has less fat than other meats. Some people switch from consuming beef to chicken in order to improve their health and decrease their intake of unhealthy fats. 
If you keep your portion size appropriate, chicken is such a great way to get protein and other important nutrients. 
HOW MUCH CHICKEN SHOULD I EAT? 
The serving size of a chicken breast is about 3 oz, which is around the size of the palm of your hand or a deck of playing cards.
One chicken breast is usually considered as one serving, but depending on the size- a chicken breast can be two or three servings. Chicken is healthy and great for you, but you don't want to be eating too much of it- the calories can add up if you aren't careful. 
You should aim for about 15-20 grams of protein per meal and snack. A 3 oz serving of chicken provides 21 grams of protein, which is the perfect amount for a meal.
TIPS FOR EATING MORE VEGETABLES
Let's face it- most of us aren't eating enough vegetables. It's not necessarily because we don't like veggies, it just seems difficult to find the time or motivation to prepare them. 
Here's some ideas of ways to incorporate more vegetables into your diet without making huge changes in how you eat. 
Start by adding veggies to food you already eat. It is easy to add vegetables to foods such as soups, sandwiches, pasta, scrambled eggs, smoothies, grilled cheese sandwiches, wraps, casseroles, quesadillas, burgers, pizza, and the list goes on.
Keep fresh or frozen veggies on hand to add into any dish. Quick and versatile veggies include bell peppers, zucchini, tomatoes, spinach, and cucumbers. You can literally add these to almost any dinner or lunch. 
Another helpful tip is to cut up vegetables to have on hand in the fridge for an easy snack (or buy them pre-cut). Store veggies where you will see them often and remember to eat them. Make a habit of eating at least 1 vegetable with every lunch and dinner. 
Make sure you stock up on vegetables and pick a new vegetable to try each time you go shopping. It's okay to consume vegetables in any form- fresh, frozen, canned, dried, even juice. The goal is to eat them any way you can.
You know you gotta do it, but how are you going to make it happen? Hopefully some ideas from this list have helped you brainstorm ways to eat more vegetables each day. 
Keep reading for this recipe- it is an awesome way to fill up on veggies along with lean protein.
Now on to the recipe- this chicken fajita bake is easy and quick to prepare. You'll layer chicken breasts, bell peppers, and onions with salsa, taco seasoning, cheese and olive oil and bake it. Eat it wrapped in tortillas, lettuce wraps, or plain. This is a great recipe for a simple, delicious, healthy, and filling meal. 
…