Looking for a killer total-body workout with weights when you are short on time? This full-body gym workout includes exercises to work every area of your body. Plenty of great choices of moves to shred your entire body. Get ready because today you will tone and tighten your chest, shoulders, legs, back, arms, and abs.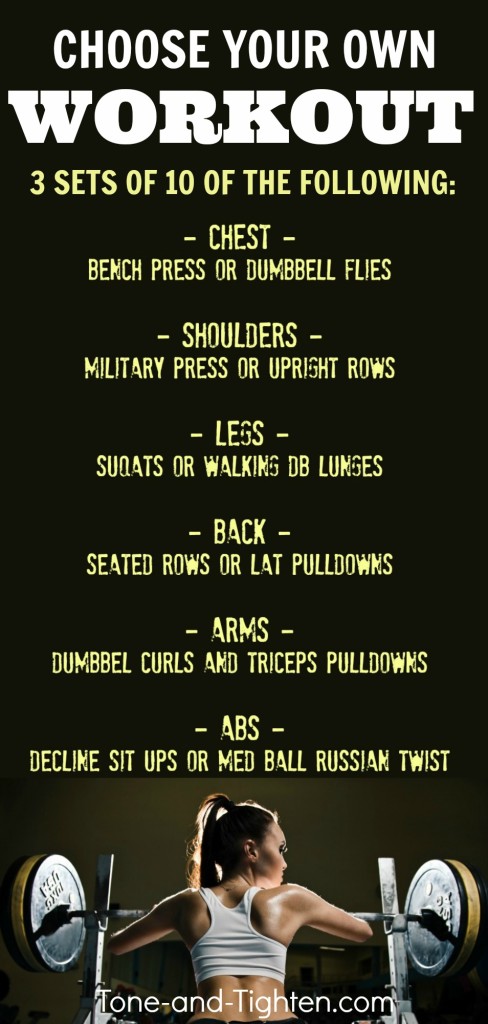 Quick Full Body Gym Workout
Chest: Bench press or dumbbell flies

Shoulders: Military press or upright rows

Legs: Squats or walking dumbbell lunges

Back: Seated rows or lat pulldowns

Arms: Dumbbell curls and triceps pulldowns

Abs: Decline sit ups or med ball Russian twists
Keep reading for a step-by-step guide with pictures, videos, and descriptions of each of these exercises.
===========================
Workouts, healthy recipes, motivation, tips, and advice all right to your inbox.
Subscribe to Tone-and-Tighten.com RIGHT HERE and get our FREE "Beginner's Guide To Weight Loss" ebook.
===========================
The other day I was walking into the gym short on time (as usual, when is there ever enough?).
I wanted to get in a total-body workout with weights as I wasn't going to make it back in for a couple of days. As I started looking around, I go to thinking "okay – I can do that chest exercise or that one. Then I want to do that leg exercise… or maybe that one…"
Basically as I looked around I got to thinking – there are so many good exercises for specific body areas it's hard to pick just one. 
Then it hit me – a "Choose Your Own Adventure" gym day. I pick the body areas and the order, you pick the exercise you do.
A fun workout that gives you plenty of options to shred your entire body. Sound good?
Here we go, keep reading below for the workout.
WHAT ARE THE BENEFITS OF TOTAL BODY WORKOUTS?
Total body workouts are a very simple and effective way of training. A full body workout hits all the major muscle groups in a single workout.
If you have a busy schedule and want to fit in a workout that will use all your main muscles, total body workouts are the answer to get an intense, time-efficient workout. 
Total body workouts can fit all levels of fitness such as beginners, seniors, individuals who are overweight, and those who are more advanced. 
HOW MANY TIMES IN A WEEK SHOULD YOU DO A TOTAL BODY WORKOUT?
You only need to do a total body workout about two or three times a week. It's rarely recommended to do the same types of workouts every single day.
Start by including a total body workout a few times per week. It's important to include a balance of various workouts including cardio, weight training, stretching, etc. Give yourself a rest day, listen to your body, and challenge yourself enough to make sure you are progressing. 
Now keep reading to give this total body workout a try.
Need more total body workouts? Here are some great ideas. 
Total Body Cardio Strength Workout
30 Minute Total Body Gym Workout
30 Minute Total Body Hiit Workout
…