7 of the best core exercises with sliders to tone and tighten your abs. This is a killer 15-minute glider stomach workout you can do at home for a tighter six pack and stronger core. So grab your exercise sliders and let's get to work!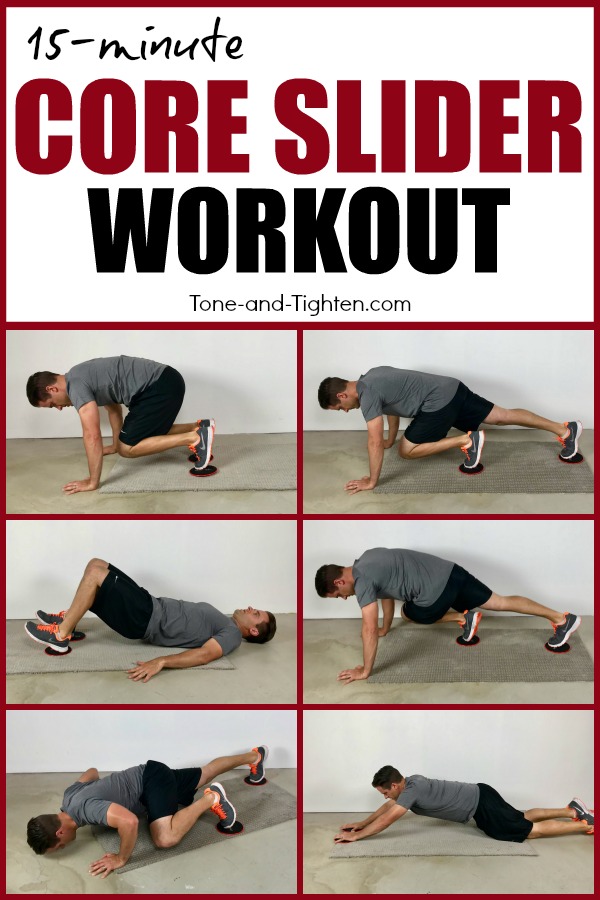 15-Minute Core Slider Workout
Slider Double Knee Tuck – use your abs to pull both knees into your elbows.
Slider Mountain Climber – alternate pulling your knees up to your elbows.
Slider Glute Bridge with Hamstring Curl – perform a glute bridge and pull your feet into your butt.
Slider Ab Pike – keep your knees straight and focus on pulling your butt to the ceiling with your abs.
Slider Mountain Climber Twist – pull your right knee up to your left elbow and your left knee up to your right elbow.
Slider Spider Man Push Up – bring your knee to your elbow while performing a push up.
Slider Double Arm Push Out – While kneeling down, push the sliders out to a fully-extended position.
Keep reading below for video and picture description of each of these exercises!
Core sliders (also referred to as exercise gliders) are one of my favorite pieces of equipment.
They're lightweight, portable, inexpensive, and there's SO MUCH you can do with them.
By adding the components of lateral motion with resistance (friction) you can actually work your muscles harder, kick on more muscle groups, and maximize your workout efficiency.
Today I'm sharing 7 of my favorite slider exercises to tone and strengthen your core in one amazing workout you can do at home in 15 minutes or less. 
This is a great "finishing" routine to work some abs into your normal mix or a great "stand-alone" workout that can be done if you're maybe crunched for time.
So grab your slider discs, and let's get to work!…