A quick freezer meal for shredded chicken to use later. Make a big batch of this slow cooker chicken, stick it in the freezer, and you can throw dinner together in matter of minutes over the next few months. You'll have shredded chicken ready for a healthy and quick meal.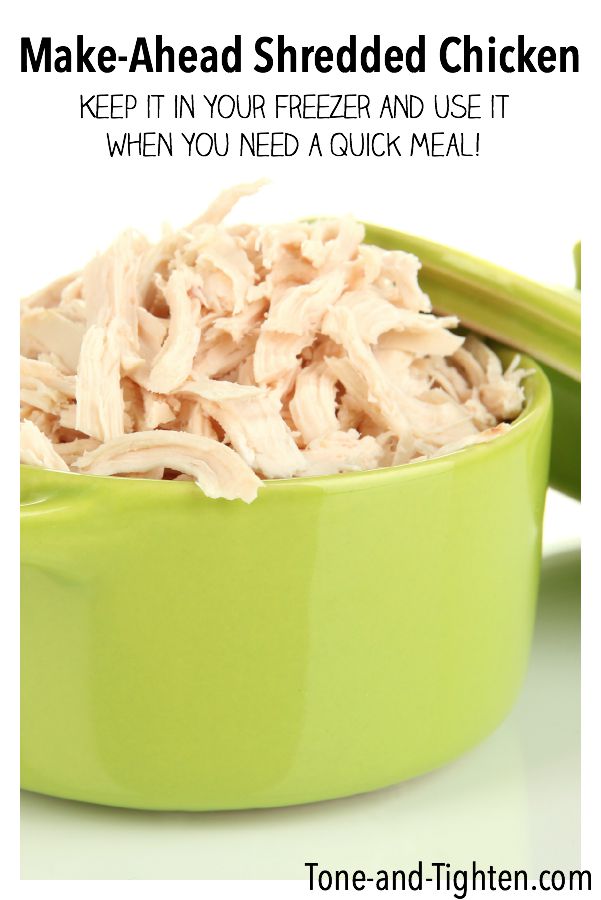 Make Ahead Shredded Chicken- Freezer Meal
Ever feel like life is crazy at your house? Amid everything else on your plate you're actually supposed to prepare and eat healthy meals as well? Luckily for you – today I'm sharing one incredible hack that will literally save you hours of time.
My wife is not only smoking hot, but she's also the queen of Freezer Meals.
She literally will take an hour each month and put together about 10 meals that we can heat up in a hurry on busy nights.
This is one of our go-to's that will literally save you hours of time.
Keep reading for the instructions for this recipe. 
===========================
Workouts, healthy recipes, motivation, tips, and advice all right to your inbox.
Subscribe to Tone-and-Tighten.com RIGHT HERE and get our FREE "Beginner's Guide To Weight Loss" ebook.
===========================
…