Looking to lose weight, get stronger, and enjoy more activities? This 6-week workout plan helps increase strength and function – perfect for the fall months! Six weeks of home exercises for a fitter, stronger you.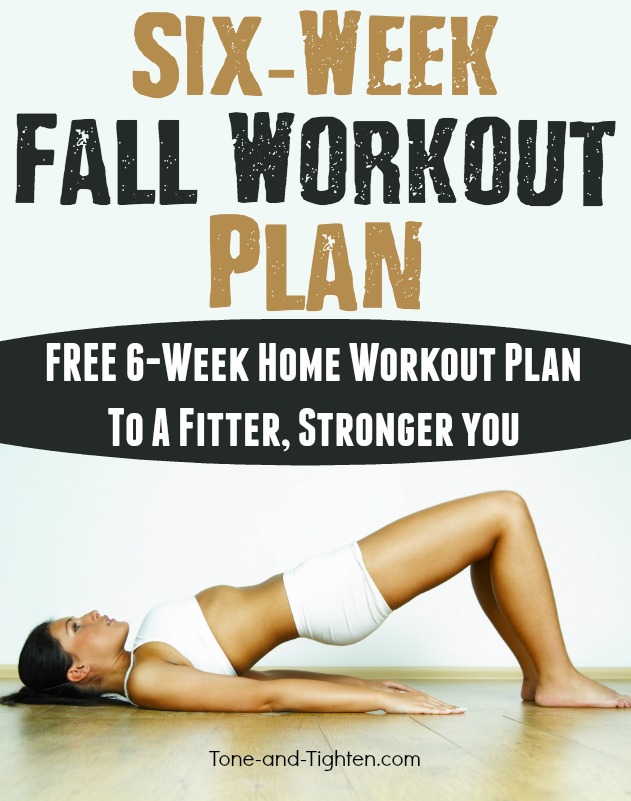 Free 6-Week Fall Workout Plan
18 exercises for 6 full weeks of workouts. Exercises include arms, legs, thighs, core, HIIT, cardio, circuit workouts, and more to target your whole body.
Keep reading for a step-by-step guide of the workouts.
===========================
Eliminate guesswork and confusion and start seeing results.
Subscribe to Tone-and-Tighten.com and get our FREE "7-Day Workout and Healthy Menu Plan" delivered daily right to your inbox. CLICK HERE to get it.
===========================
The days are getting shorter, the weather is a little cooler, and the leaves are starting to change from green to brilliant yellows, reds, and oranges. FALL IS HERE! While speaking of changes, maybe it's time we changed ourselves a little bit.
With the kids heading back to school, fall is a perfect time to start the workout plan that you've just been too busy to get around to this summer. Enter Tone and Tighten! Today I wanted to share with you an all-new workout plan that I've come up with for fall.
These are all at-home workouts that require very little equipment (a pair of dumbbells at most) and will yield amazing results.
Whether it's fall or not, this is a great workout plan you can start today to get yourself in better shape, lose weight, build strength, and feel great.
…