Easy slow cooker skinny enchiladas you can feel good about. These chicken enchiladas are healthy, quick, and delicious. This recipe is a homemade meal that is sure to be a hit. With low-fat and high flavor, what's not to love?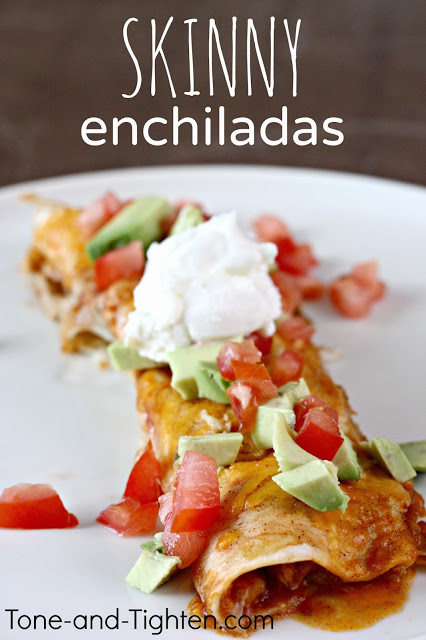 Slow Cooker Skinny Chicken Enchiladas Recipe
Keep reading for the recipe, ingredients, and instructions.  
===========================
Eliminate guesswork and confusion and start seeing results.
Subscribe to Tone-and-Tighten.com and get our FREE "7-Day Workout and Healthy Menu Plan" delivered daily right to your inbox CLICK HERE to get it.
===========================
Flavorful chicken, wrapped in tortillas, smothered in a rich and creamy sauce sounds like a dieter's nightmare, right? It doesn't have to be. 
I love Mexican food and even if you are trying to eat healthy, you don't have to sacrifice your favorite foods.
These skinny chicken enchiladas are seasoned to perfection and are lower-fat without sacrificing the rich, rewarding flavor. 
Here is a quick and easy enchilada dinner that will make you forget you are watching what you eat. 
Just throw it all in your slow cooker and make the enchiladas when you get home.
Slow cookers are great, with a little planning ahead of time, you can have easy meals that taste amazing.
…