Tone and tighten your stomach in no time with this awesome standing abs workout. Complete core strengthening in only 12 minutes and you never have to get on the floor. Beginner as well as advanced ab exercises demonstrated – grab your dumbbell and let's get to work.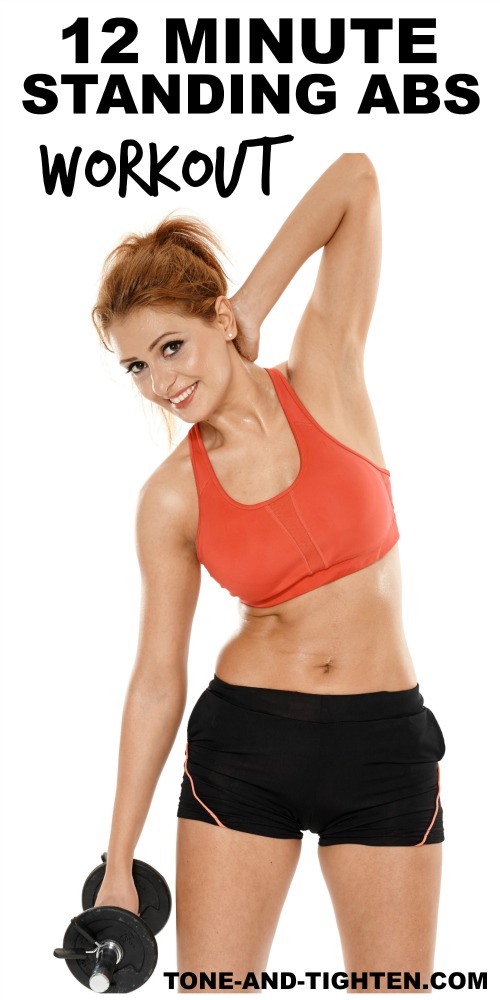 12-Minute Standing Abs Workout
Standing dumbbell crunch

Rotating dumbbell crunch

Rotating curtsy lunge

Standing oblique side bend

Plie squat and twist

Curtsy overhead bends

Wood chops

Plie side bend crunch
Keep reading below for video, pictures, and descriptions of each of these exercises.
************************
FREE 7-Day Workout and Menu Plan delivered straight to your inbox!
CLICK HERE to get your plan today!
************************
Looking for a great way to intensify your ab workouts and take your core to the next level? There are two sure-fire ways to do it…
Try some new exercises and add weight!
All-too-often we think "ab workouts" need to entail a million sit ups and crunches to yield toned and fit results. Not true!
I encourage clients and patients all the time to get up off the floor and try something new. It's actually a more functional way to train your core, can be easier on your back and neck, and yield amazing results.
Today I'm sharing with you eight of my favorite standing abs exercises compiled in one awesome core workout you can do right from home.
All you need for this workout is one dumbbell (or any type of resistance – even a big water bottle would do!) and you will be feeling this in no time!
No weights at home or weights too difficult? No problem – just do it without the weight. I've got beginner as well as advanced versions of each exercise demonstrated in the video below.
Bonus: NO CRUNCHES REQUIRED! You will be standing the entire workout!
…