This easy grilled chicken protein bowl is great for meal prep. It's so versatile and will boost your daily vegetable intake. This is the perfect balanced meal with healthy carbs, lean protein, veggies, and healthy fats. These chicken protein bowls are delicious, quick, and easy enough for pretty much anyone to make.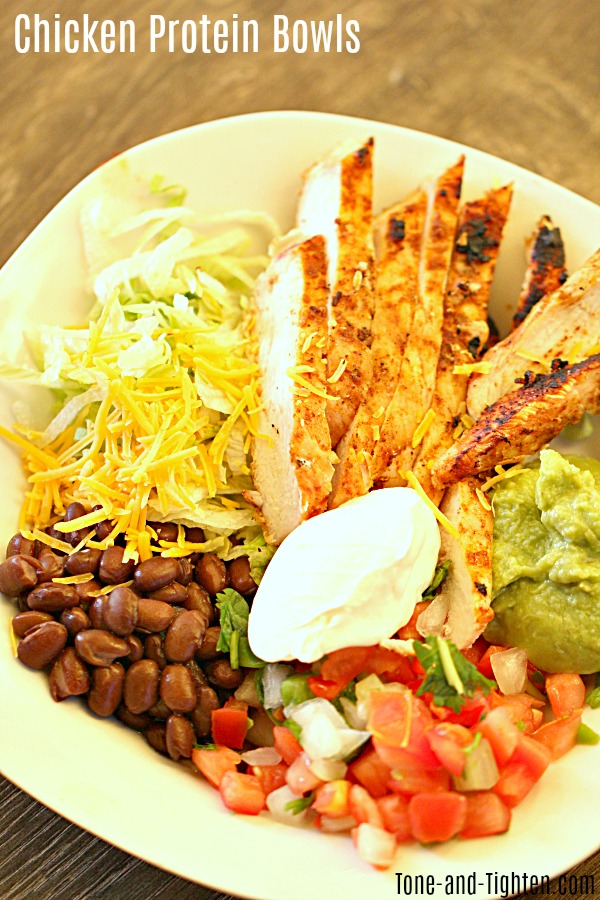 Grilled Chicken Protein Bowls
Looking for an easy meal-prep idea for this week? This chicken protein bowl is an easy lunch or dinner to bring anywhere, not to mention it tastes great. 
Keep reading below for the recipe and step-by-step instructions. 
===========================
7 Days of awesome at-home workouts and delicious dinner recipes – delivered daily right to your inbox.
Sign up for our all-now "7-Day Home Workout and Recipe Plan" by clicking RIGHT HERE.
===========================
This is one of my favorite recipes to put together at the beginning of the week and eat it all week long – it makes for great lunches that you can grab on the go.
I love making protein bowls, it's like a salad but with more healthy carbs and protein to help you feel full and satisfied throughout the day.
It's super fast and easy to make and you can throw in whatever you have in the fridge. Feel free to add in other vegetables you love like olives, bell peppers, jalapenos, even sweet potatoes work great. 
Make a batch of these for your lunches throughout the week to grab and go, or make them for your whole family. 
…