A quick workout you can do at home with zero equipment to burn 100 calories. This 100 calorie workout works every major muscle group in your body to get your heart rate up and burn as many calories as possible.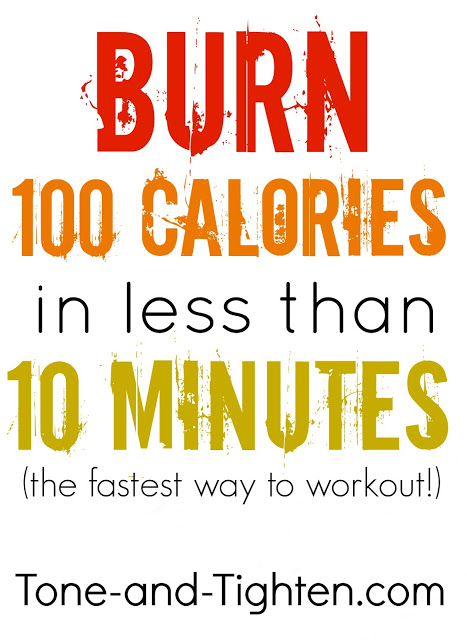 100-Calorie Total Body Workout
Jog in place for one minute

Jumping jacks for one minute

Deep squats for one minute

High knees for one minute

Butt kicks for one minute

Standing oblique crunch for 30 seconds each side)

Boxer shuffle for one minute
(Scroll down to follow along with our VIDEO of this workout!)
You know the ones I'm talking about… "those days" that are jam packed from when you wake up in the morning to when you go to sleep at night and there's barely time for anything else?
In those cases sometimes things fall off our schedules and unfortunately it's often our personal fitness.
Well I'm here today to reclaim that workout time! Let's take back our fitness and show "those days" who's boss.
You don't need a lot of time, a lot of equipment, or even a gym membership to get in a great, total body workout.
I designed this workout to be quick and effective – it requires zero equipment and only 10 minutes of your day.
The best part – this workout will burn 100 calories in only 10 minutes.
This is the perfect way to sneak in a workout when you are short on time.
We even shot a video of this workout so you can follow along with us. Keep scrolling below to see this 100-calorie video workout.
…