A fast, 8-minute ab workout you can do anytime, anywhere. Work your stomach and core fast with 8 great ab exercises that train your abs from every angle. This is the perfect quick ab workout to tone and tighten your upper abs, lower abs, obliques, and the deepest abdominal layer. So let's get to work.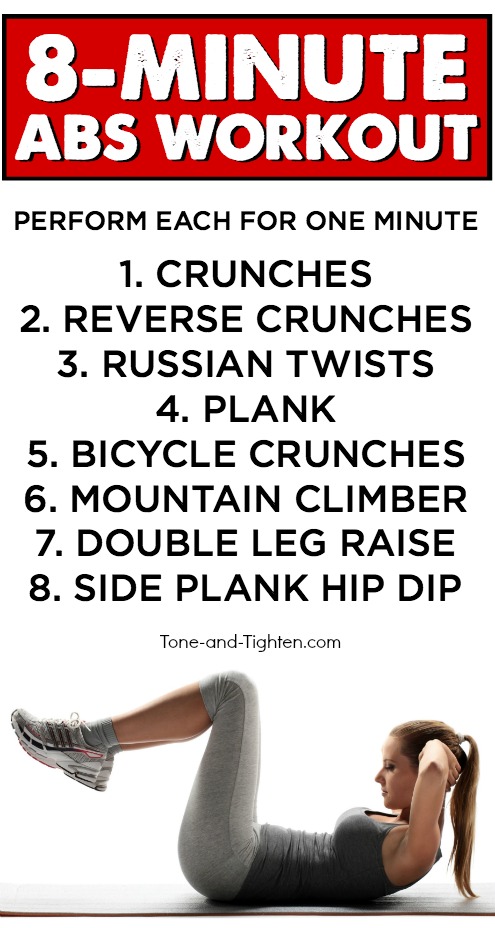 8-Minute Ab Workout
Crunches – great exercise to work your upper abs.

Reverse Crunches – great exercise to work your lower abs.

Russian Twist – recline while we target internal and external obliques on each side.

Plank – suck in to target your deepest abdominal layer.

Bicycle Crunches – combining flexion with rotation in one of the best ab moves out there.

Mountain Climber – weight-bearing, anti-gravity position works all the layers of your abs.

Double Leg Raise – my favorite to target and isolate the lower abs.

Side Plank Hip Dip – the most-effective way to work the lateral core muscles.
Keep reading down below for full descriptions and pictures/details of each exercise in this 8-Minute Ab Workout.
=========================================
7 Days of awesome at-home workouts and delicious dinner recipes – delivered daily right to your inbox!
Sign up for our all-now "7-Day Home Workout and Recipe Plan" by clicking RIGHT HERE!
=========================================
The fastest way to shred your abs in a hurry!
Want a sexy, defined tummy but lack the time to get it? You don't need a lot of time or even equipment to increase stomach definition, decrease fat, increase strength, and define that six-pack.
This ab workout requires zero equipment, hits every major muscle group in your abdomen, and is only 8 minutes long. It's the perfect way to finish off any workout or for those days when you're short on time.
So grab your timer and let's get to work!
…