Six amazing workouts you can do this week in the comfort of your own home. Take your results to the next level by targeting a different body area each day to tone and tighten all your major muscles. This week will bring you a total body workout plan– working your arms, legs, back, butt, shoulders, and abs.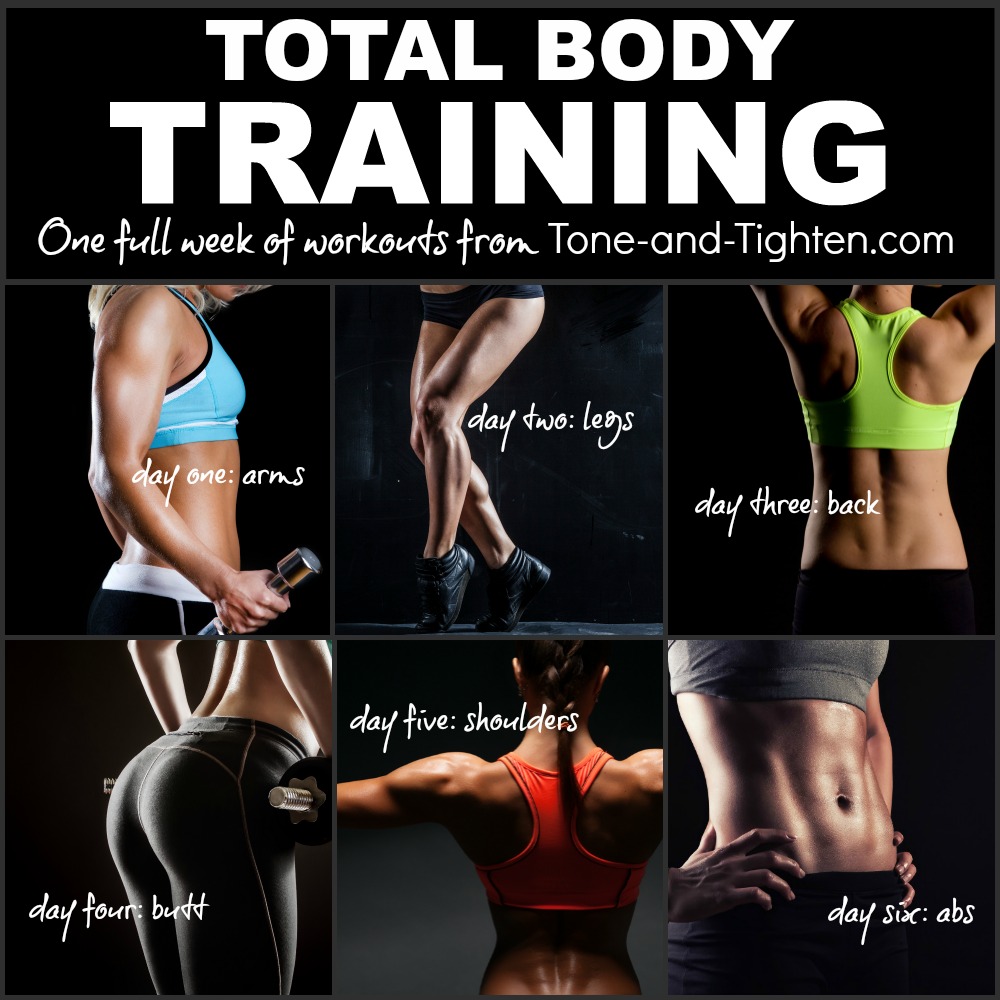 Total Body Weekly Workout Plan
Day One- Tone your Arms Workout

Day Two- At Home Leg Workout with Dumbbells

Day Three- Ultimate Back Workout

Day Four- Thigh and Butt Burner Workout

Day Five- Sculpted Shoulders Workout

Day Six- 20-Minute Non-Stop Abs Workout
Keep reading for each day's workout for this weekly workout plan.
===========================
Eliminate guesswork and confusion and start seeing results.
Subscribe to Tone-and-Tighten.com and get our FREE "7-Day Workout and Healthy Menu Plan" delivered daily right to your inbox. CLICK HERE to get it.
===========================
Here we go again. Welcome everyone to another Monday here on Tone-and-Tighten.com.
As many of you know, Mondays are the days that I like to post my "Weekly Workout Plan" – a series of awesome workouts for us to shred through during the week.
I've found that my workouts become a lot more effective and I don't miss them if I have them all scheduled out one week in advance; I hope you find the same benefit.
This week's "Weekly Workout Plan" is 6 great workouts you can do at home focusing on a different body area each day.
Mixing up your workouts and introducing the concept of "muscle confusion" (NOT doing the same exercises day in and day out) is a great way to take your results to a whole new level. So get ready to make this week awesome.
…