Learn technique and proper form, get a great workout, and build strength with this beginner strength training workout. Includes 5 beginning strength training exercises to help you in your goal to look and feel stronger.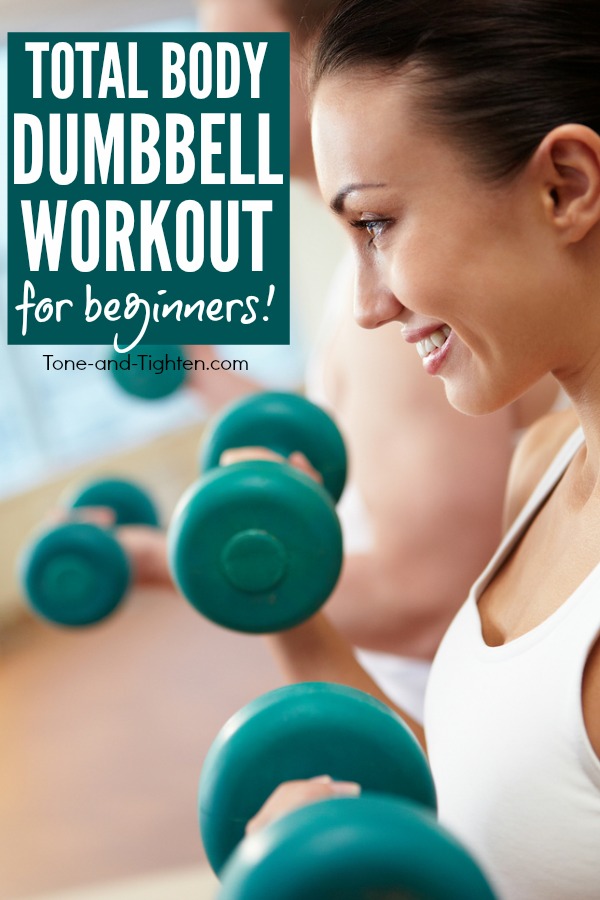 Total Body Strength Training Workout for Beginners (with Weights)
Deadlifts

Military Curl and Press

Lunges

Bent Over Row

Chest Press
Keep reading for the workout video plus step-by-step instructions of each of these exercises.
===========================
Eliminate guesswork and confusion and start seeing results.
Subscribe to Tone-and-Tighten.com and get our FREE "7-Day Workout and Healthy Menu Plan" delivered daily right to your inbox. CLICK HERE to get it.
===========================
I have received a couple questions from many of you asking about strength training, specifically where to start if you are a beginner and have never done any type of strength training or weight lifting.
This is a great workout for those who want to start strength training, plus you can do it in the comfort of your own home.
Strength training is a crucial part of any exercise plan and this is a great workout to get started. This is a great way to learn technique and weight lifting exercises. The video below explains each strength training move and how to do it.
I recommend starting with 2-3 pound dumbbells if you have NEVER picked up a weight before in your life.
If you have some experience and want to challenge yourself, try 5-8 pound dumbbells. For a more advanced workout, use 10-12 pound dumbbells (please only use these if you have experience with strength training).

…