Seven free at-home workouts that you can do with dumbbells to tone and tighten from head to toe this week. Each day focuses on a different body area, from your shoulders and arms to your core and legs.  Dumbbell week is going to strengthen and sculpt your whole body. Lose fat and gain muscle with these easy-to-follow workouts.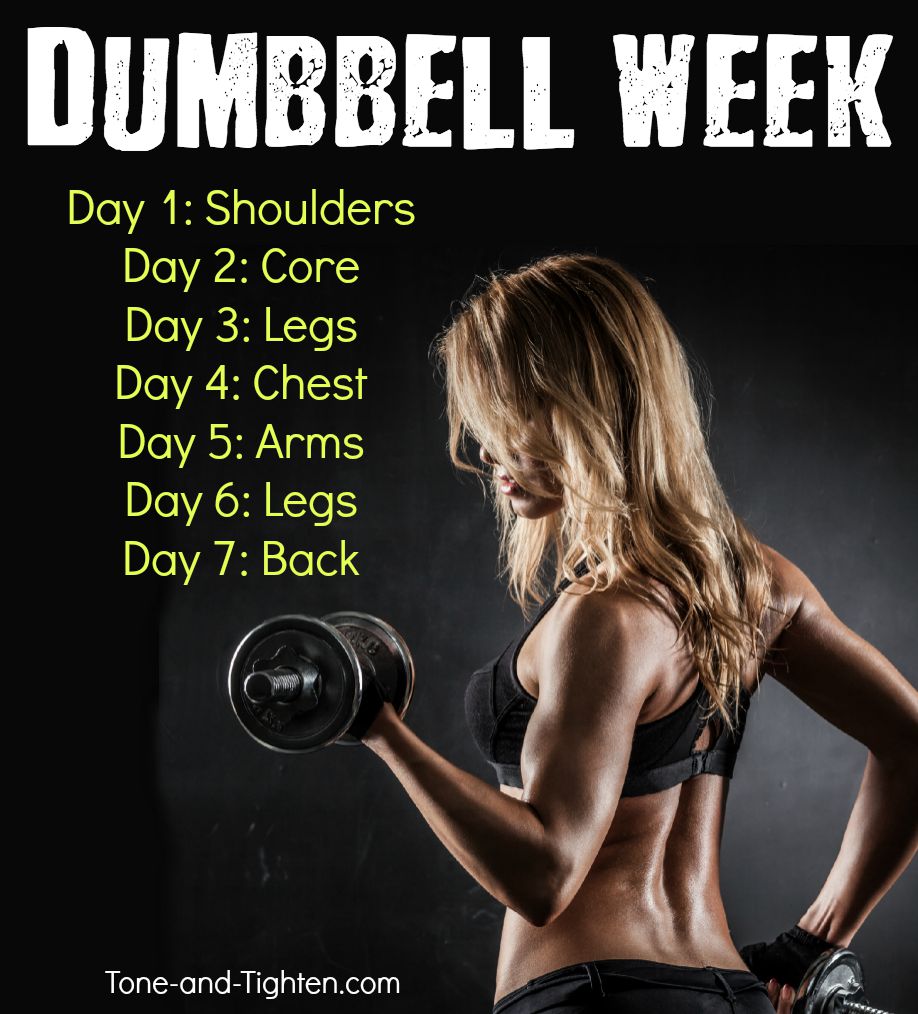 Free At-Home Workout Plan With Dumbbells
Day One- The Best at-Home Shoulder Workout

Day Two- Total Core Workout with Weights

Day Three- 30 Minute Dumbbell Leg Workout

Day Four- At Home Chest Workout for Women

Day Five- Arm-Toning Workout

Day Six- Strong and Sexy Leg Workout

Day Seven- Ultimate Dumbbell Back Workout
Keep reading for the links to each of these workouts. You'll find step-by-step guides with pictures and videos to help you perfect the moves and technique to get a great dumbbell workout. 
===========================
Eliminate guesswork and confusion and start seeing results.
Subscribe to Tone-and-Tighten.com and get our FREE "7-Day Workout and Healthy Menu Plan" delivered daily right to your inbox. CLICK HERE to get it.
===========================
Hey everyone, welcome to another week here on Tone-and-Tighten.com.
I've been on a real dumbbell kick lately. I love free weights, they're such a great way to sculpt lean muscle, shred through fat, and shape the body you've always wanted.
With just two little weights you can literally work your entire body – this week I wanted to show you how.
I'm going to share 7 of my favorite dumbbell workouts with you to work you from head to toe, or shoulders to legs anyway.
Your objective is to try to get through all seven of them this week.
Think you're up to it? Yeah – I thought so. Here we go….