A quick, 15-minute arm workout you can do at home with just a pair of dumbbells. 5 great arm exercises in circuit interval format to tone your biceps and tighten your triceps. Sculpt the arms you've always wanted with this awesome workout.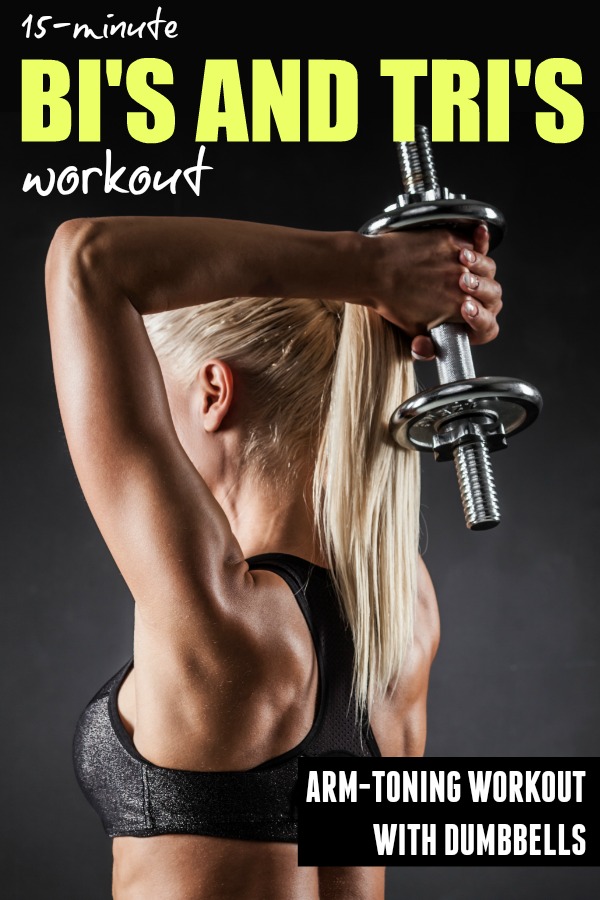 15- Minute Dumbbell Arm Workout – Biceps and Triceps
Overhead Triceps Extensions

Dumbbell Curl to Military Press

Standing Triceps Kickbacks

Alternating Hammer Curls

Dumbbell Skull Crushers
Keep reading below for picture and video instruction as well as to follow along with a personal instructional video of this workout.
=====================================
7 Days of awesome at-home workouts and delicious dinner recipes – delivered daily right to your inbox!
Sign up for our all-now "7-Day Home Workout and Recipe Plan" by clicking RIGHT HERE!
===================================
Oftentimes people are under the misconception that you need a lot of fancy equipment, a lot of time, and even a lot of different weights to get get toned, lean muscles.
That's totally not the case!
Today I'm taking you through one of my favorite circuit workouts that you can do at home to sculpt amazing arms with just two dumbbells.
This at-home arm workout only takes 15 minutes to complete, is set up in a timed interval format, and is a great way to tone and tighten the major muscles in your arms.
We'll be working the biceps (front of the arm) and triceps (back of the arm) pretty heavily with this one! Let's get to it!…