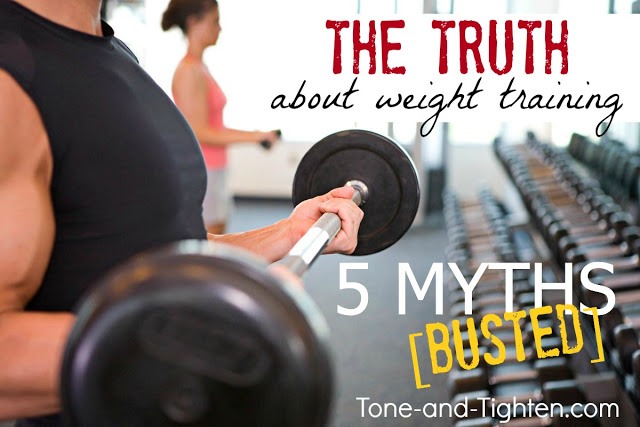 Many misconceptions exist about weight training. In my practice I frequently have patients express these concerns to me during the course of their rehabilitation program. I have heard everything from "working out will make me weaker" to "I run all the time – isn't that sufficient strengthening for my legs?". The following is a list of the top five myths that I hear as a physical therapist that are associated with weight training and the truth to blow them out of the water.


Myth 1: "If I work out with weights I will get big and bulky."
Fact: muscle bulk and muscle tone are two completely different concepts. True, the best way to bulk up is with an intense weight-lifting regimen, but it really depends on how you work out and what you consume. Muscle hypertrophies (gets a lot bigger) by increasing resistance, decreasing repetitions, and increasing sets. The key to muscle bulk is high weight, low reps, lots of sets, and LOTS of fuel (calories, protein, etc). Muscle tone, on the other hand, is achieved by challenging lean muscle with few sets of high repetitions; thereby building lean muscle. This is the goal of most exercises on this website – to Tone and Tighten.

Myth 2: "Because muscle weighs more than fat I will put on weight if I gain muscle."
Fact: having a higher percentage of muscle mass actually increases your metabolism. The more muscle you have the more energy (calories) your body burns even while at rest . Replacing fat with muscle may be somewhat a slow process early on, but in the long run you're training your body to become a more efficient energy machine.

Myth 3: "Weight training isn't as important as cardiovascular workouts."
Fact: in order to tone your muscles and tighten your body, a balance must exist between aerobic cardiovascular exercise and resistance training. Doing either aerobic cardiovascular training or resistance strengthening alone in isolation is not as effective as combining them. Strength training to key muscle groups in the legs and core is vital to proper body mechanics and maintaining an injury-free cardiovascular routine. Proper heart, lung, and cardiovascular function are all key components of establishing and maintaining a resistance exercise routine. Establish a balance between these two key elements and watch your results take off.

Myth 4: "I am more prone to injury if I work out with weights due to heavy lifting/straining."
Fact: Increasing strength in key muscle areas in a controlled, safe manner can actually serve to avoid injury and maintain muscle health. Overexertion happens when muscles are strained beyond a load that they are capable of bearing. One of the most effective ways to avoid this type of injury is to increase muscle's capability. The stronger your core muscles are the less susceptible you become to back strain. The stronger your shoulders and postural muscles are the less your chances of a neck injury. Strong legs equal stable legs during walking, stairs, running, and athletic events. Strengthen your muscles to avoid injury, not to cause it.

Myth 5: "Running is all the strength training I need."
Fact: Many (in fact I would say the majority) of the running-related injuries that I see in my clinic come as a direct result to this myth. Every day I ask people about their exercise routine; I'm always impressed by those who say I run 5-6 days a week for 5+ miles/day. Usually when I ask about strength training they tell me it doesn't exist in their routine. As I come to checking their muscle strength during their initial evaluation I am rarely surprised to identify significant weakness in key hip and core muscles. Running alone is usually not sufficient strength training for your body to endure this type of routine. It is vital to incorporate some sort of core and leg strengthening into your running training. I recommend three days a week of 15 – 20 minutes of leg and core strengthening to anyone wishing to run stronger longer.

Incorporate these strength training tips into your regular exercise and prepared to find a more toned, tightened look that you been searching for.

Make it happen,

Jared



By Jared Beckstrand
To view the rest of this post, be sure to head over to www.tone-and-tighten.com.
Have a great day!
Jared