Take your legs to the next level with this 30-minute bodyweight leg workout that's guaranteed to sculpt and shape the legs, butt, and thighs. Tone and tighten lean leg muscle at home with these 7 great exercises. This workout includes bodyweight moves only – no equipment required.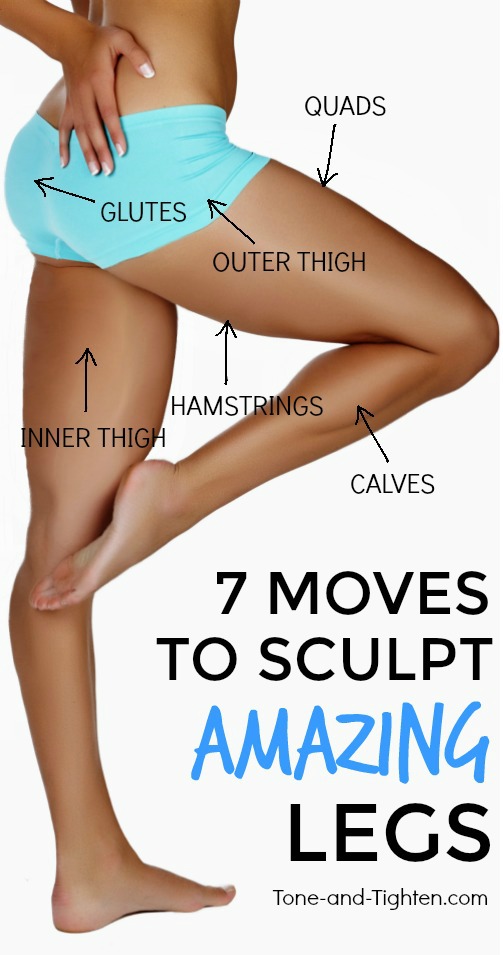 7 Moves To Tone Your Legs At Home
Air Squats

Glute Bridges

Quadruped Hamstring Curl

Traveling Side Lunges

Scissor Kicks

Walking Lunges

Heel Raises
Keep reading for a step-by-step guide with pictures, videos, and descriptions of each of these exercises.
===========================
Eliminate guesswork and confusion and start seeing results.
Subscribe to Tone-and-Tighten.com and get our FREE "7-Day Workout and Healthy Menu Plan" delivered daily right to your inbox. CLICK HERE to get it.
===========================
Lots of people come up with lots of excuses.
"I don't have the time."
"I don't have the equipment."
"I can't do some of these harder workouts"
These are things I hear in my comments and emails all the time.
Well here at Tone-and-Tighten.com our specialty is producing "real fitness for real people". It's our goal to help you realize you don't need a lot of time, a lot of equipment, or even crazy high-intensity exercise to get in an amazing workout that's killer effective.
Today I'm sharing with you one of my favorite 30-minute bodyweight workouts that's guaranteed to tone and shape the legs, butt, and hips you've always dreamed of. …