Fresh green beans coated in bread crumbs and baked until crispy. A healthy green bean recipe that's sure to be a hit. This oven-baked green bean fry recipe will not only boost your veggie intake, but give you some essential nutrients from the green beans such as Vitamin C, fiber, Vitamin A, potassium, folate, iron, and more.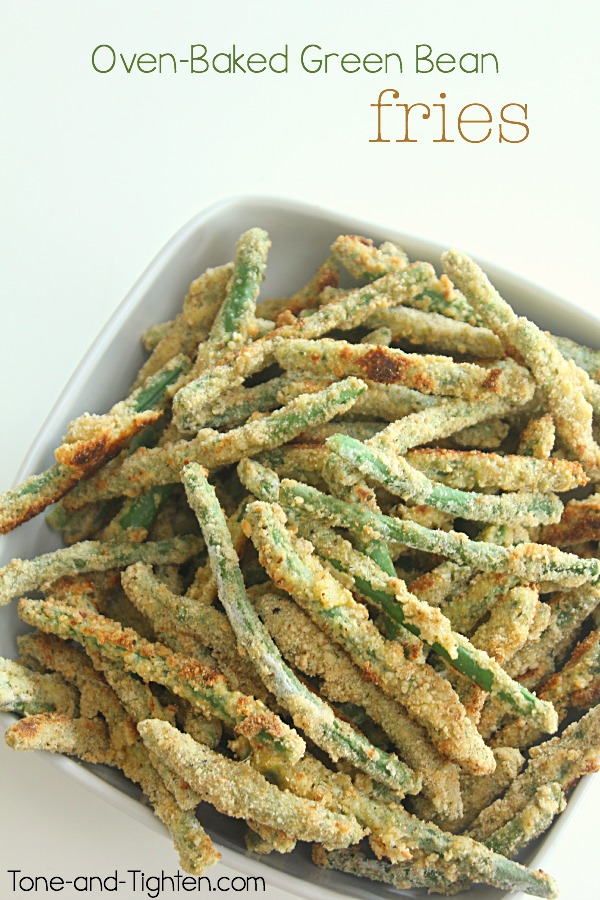 Oven Baked Green Bean Fries
Keep reading for the recipe. 
===========================
Eliminate guesswork and confusion and start seeing results.
Subscribe to Tone-and-Tighten.com and get our FREE "7-Day Workout and Healthy Menu Plan" delivered daily right to your inbox. CLICK HERE to get it.
===========================
Finding vegetable dishes that my kids can eat is sometimes a challenge . . . but this one is a winner with kids, picky eaters, vegetable haters, and anyone else who might struggle with eating their vegetables.
Delicious, fresh green beans that are lightly breaded and baked to perfection.
Our kids love green beans; when we offered these to them in the form of a "fry" they thought it was the coolest thing. They even came back for seconds.
Since that time, this one has become a staple at our house. 
We hope you'll enjoy it as well.
WHAT ARE THE HEALTH BENEFITS OF GREEN BEANS?
Green beans are a nutrient-dense and low calorie food (only 31 calories per cup).
You'll find many important nutrients in green beans. They are high in Vitamin C, a good source of fiber and Vitamin A, and also contain potassium, folate, magnesium, calcium, iron and other essential vitamins and minerals. 
The antioxidants and phytochemicals found in green beans can also help improve heart health and reduce the risk of cancer and diabetes. 
It's great to fill up on this healthy vegetable and regularly include it in your diet to help you stay full, keep you healthy, give you plenty of nutrients, and contribute to a healthy weight with lower risk of disease. 
Recipes like this one will help give you creative and flavorful ways to incorporate more vegetables in your diet.
DO GREEN BEANS HELP YOU LOSE WEIGHT? 
Green beans are a great vegetable to include in a weight loss eating plan. You probably won't lose weight just by incorporating green beans in your diet, but they can contribute to a healthy body weight combined with other healthy foods and exercise. 
If you fill up on at least 3 cups of a variety of vegetables per day you will be giving your body so many good nutrients with very little calories.
Make at least half of your plate full of vegetables at lunch and dinner (and breakfast if you can) to contribute to weight loss. Then add some lean protein and carbohydrates and you'll be on your way to a healthy weight. 
ARE CANNED GREEN BEANS GOOD FOR YOU? 
While this recipe is created for fresh green beans, I wanted to answer this common question.
Canned green beans are very common throughout the year when fresh aren't available, or are more expensive. But are they as good for you?
Canned vegetables can be very affordable, but most people assume that canned vegetables are not as healthy as fresh. Processing methods such as canning and freezing do cause some nutrient loss, but it is fairly minimal and the rest of the nutrients are preserved over longer periods of time compared to buying fresh vegetables.
The major difference between fresh and canned is the sodium content of canned foods. Because of related health risks, it's common for many consumers to steer clear of canned foods due to the high sodium content.
Look for low-sodium canned vegetables and decrease the sodium content of canned foods by draining and rinsing with water. Soaking or rinsing canned vegetables in water can decrease the sodium content by as much as 50%. 
If you aren't getting enough vegetables otherwise, canned vegetables can be very helpful, and healthy, to help you meet your recommended veggie intake.
Include canned, fresh, frozen, dried, and juiced veggies into your diet for a wide variety of nutrients and health benefits. 
So, get some fresh green beans and try this recipe to boost your veggie intake today.
Oven-Baked Green Bean Fries
Fresh green vegetables are dipped in bread crumbs for a crunchy outer shell . . . your kids will love them!
Ingredients
1 cup bread crumbs
1 cup bread crumbs
½ cup grated Parmesan cheese
½ cup grated Parmesan cheese
salt and pepper, to taste
salt and pepper, to taste
1-2 pounds fresh green beans, washed and trimmed
1-2 pounds fresh green beans, washed and trimmed
½ cup flour (I used whole wheat)
½ cup flour (I used whole wheat)
2 large eggs, beaten
Instructions
Preheat oven to 425 degrees. Line a large baking sheet with aluminum foil and spray lightly with non-stick cooking spray.
In a large bowl, combine bread crumbs and Parmesan cheese. Place the flour in it's own small bowl and also place the beaten eggs in their own bowl.
Working with a handful of green beans at a time, dip the green beans in flour, then into the eggs, then dredge in bread crumb mixture, pressing the beans down into crumbs until they are completely coated.
Place green beans in a single layer onto the prepared baking sheet. Put pan in the oven and bake for about 10-12 minutes, or until golden brown and crisp.
Serve immediately.
Recipe slightly adapted from Damn Delicious
Here are some great meal recommendations to make with this side dish: 
Do you have an Instant Pot? Instant Pots are a simple way to prepare healthy and delicious food in no time at all. Check out three of my favorite healthy side dishes you can prepare in an Instant Pot: 
If you are looking for more family-friendly healthy dinners, be sure to check out my 14-Day Menu Plan for Busy Moms
Be sure to follow Tone and Tighten on Pinterest, Twitter, Facebook, Instagram, and YouTube for more workouts, recipes, and fitness ideas.
Make it happen,
Jared