The best way to start your day- a healthy green smoothie full of veggies, fiber, antioxidants, and many important nutrients. This blueberry avocado green smoothie recipe is easy to make, easy to clean up, and totally delicious.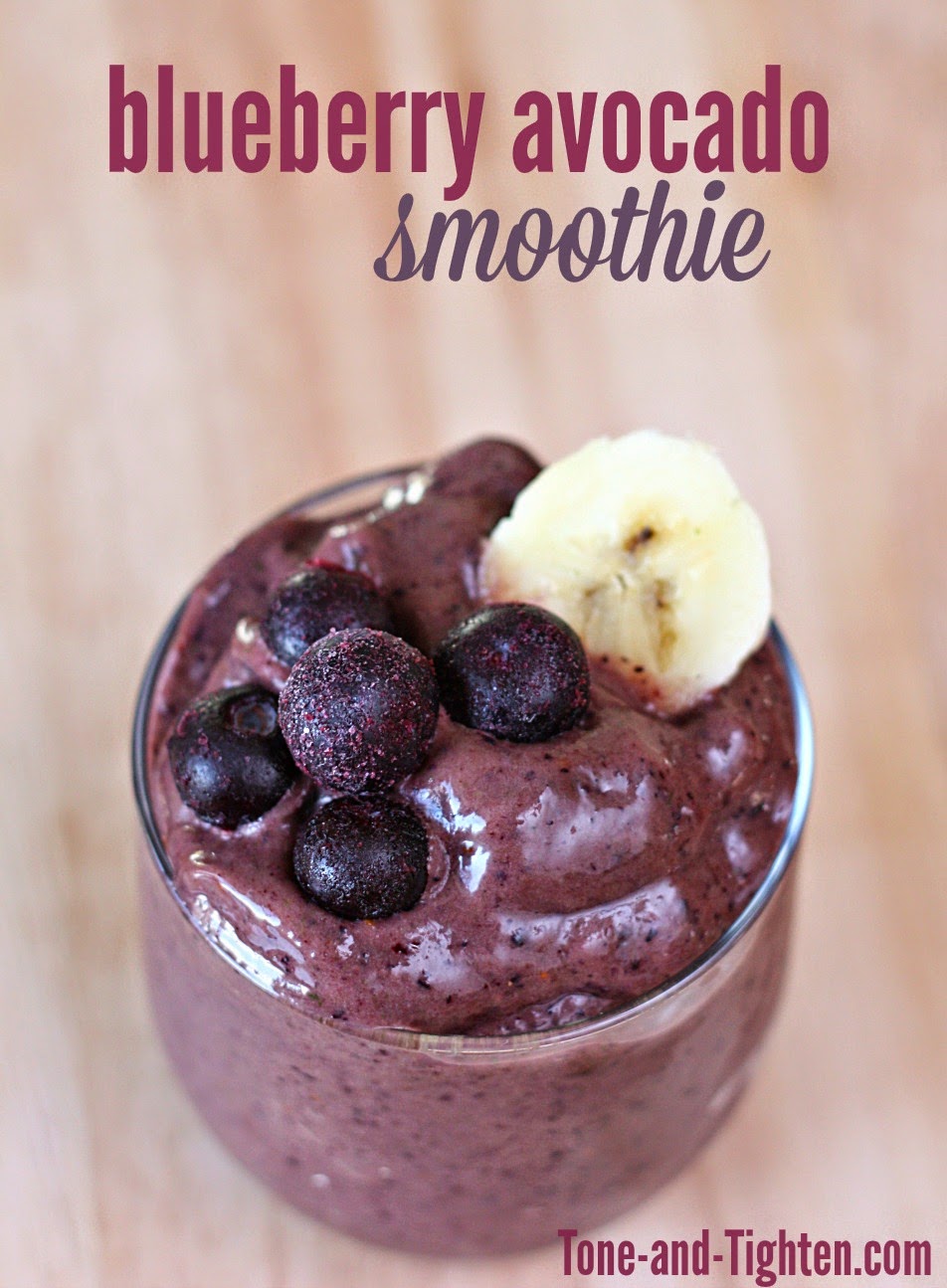 Blueberry Avocado Green Smoothie Recipe
Keep reading for the recipe.
===========================
Eliminate guesswork and confusion and start seeing results.
Subscribe to Tone-and-Tighten.com and get our FREE "7-Day Workout and Healthy Menu Plan" delivered daily right to your inbox. CLICK HERE to get it.
===========================
According to the USDA dietary guidelines, an adult consuming 2,000 calories per day should be eating 2 1/2 cups of vegetables and two cups of fruit per day. This will give your body the necessary nutrients and antioxidants that it needs to power you through your day.
I don't know about you – but that's a TON of fruits and veggies! I mean really – that's pretty tough to do!
One convenient way you can make this recommendation attainable is to blend up your fruits and veggies in a delicious green smoothie. A green smoothie is such a satisfying and healthy way to start your day with some vegetables.
You'll love this smoothie filled with veggies, healthy antioxidants, and energy-boosting nutrients to start your day.
WHAT ARE THE BENEFITS OF DRINKING GREEN SMOOTHIES?
Green smoothies are a healthy breakfast and an easy way to fit in your recommended servings of fruits and vegetables.
The vegetables and fruit from green smoothies pack in a lot of important nutrients such as potassium, vitamin C, vitamin A, vitamin K, many B vitamins, folate, calcium, iron, fiber, and antioxidants.
Green smoothies help you to consume more fruits and vegetables, typically at least 2 or more servings per smoothie, which brings great health benefits. Having a more plant-based diet could help you to lower your cholesterol, blood pressure, and risk of disease.
Here are a few other important benefits from drinking green smoothies:
Great way to fit in a serving or two of vegetables (and you won't be able to taste them).

Provides antioxidants, vitamin C, fiber, and other nutrients that help to fight disease, strengthen your immune system, and keep you healthy.

Helpful replacement for sweet cravings during the day. Green smoothies aren't just for breakfast, but anytime you want a delicious and healthy snack.

Easy to make and clean up.

It can be fun to experiment with new combinations of ingredients to see what you like.
CAN YOU LOSE WEIGHT BY DRINKING GREEN SMOOTHIES?
Green smoothies have been a popular trend with a claim that they help you lose weight. If you plan well, you can definitely lose weight by incorporating green smoothies into your routine.
If you replace a meal with a green smoothie, you will have a lower calorie intake. They are healthier than many other breakfast foods and such a good way to start your day.
You get a boost of vitamins, minerals, antioxidants, and more from drinking smoothies during the day. A green smoothie is like a salad in a bottle- it's just as healthy as a salad with a delicious taste.
CAN YOU DRINK A GREEN SMOOTHIE EVERY DAY?
Too much of a good thing sometimes can be harmful, but with green smoothies you're pretty safe to consume them everyday. Since they are a lot healthier than other breakfasts, it's a great idea to start your day with a green smoothie.
The key is balance- an appropriate serving size of a green smoothie each day is so good for you, but make sure your eating plan throughout the day also has a healthy balance of whole grains, heart-healthy fats, lean protein, and other forms of fruits and vegetables.
Another popular trend is juicing fruits and vegetables for nutrient-rich "green juice" in the morning.
Making a green smoothie each day is better for you than juicing. With juicing, you lose the fiber from the fruit and vegetables. The recommended amount of fiber per day is 38 grams for men and 25 grams for women. The average person gets about 15 grams per day- half what we should. In other words, we need the fiber.
Put your veggies in the blender, not the juicer, for a healthy breakfast. You get all of the same nutrition plus the fiber.
WHAT SHOULD YOU PUT IN A GREEN SMOOTHIE?
Green smoothies usually have 1-2 servings of vegetables and 1-2 servings of fruit. Choose vegetables that taste mild and don't affect the taste such as leafy greens like spinach and kale, avocado, celery (if you have a powerful enough blender), zucchini, carrots, and beets.
You can't taste the vegetables if you balance it out by using 1-2 servings of fruits like apples, bananas, pineapple, pears, berries, etc. You can also add greek yogurt, chia or flax seeds, or protein powder.
Green smoothies can be made however you like- it can take some time to experiment with a variety of vegetables and fruits. I have some delicious recipes to give you the best-tasting green smoothies!
(You can find 25 recipes just like this one in my Green Smoothie eBook that is on sale for only 1.99! Scroll down to the bottom of this post for more details.)
Now on to the recipe. This recipe is easy, simple, delicious, and so healthy for a great start to your day.
Blueberry Avocado Smoothie
½ cup fresh or frozen blueberries
½ avocado, pitted and sliced
½ large banana, sliced and frozen
1 cup fresh baby spinach or kale
1 teaspoon agave or honey
Place all the ingredients inside blender. Cover and blend until smooth, stopping frequently to push down anything stuck to the sides (especially those with a lower-power blender- check out my favorite blenders HERE). Pour into glass and enjoy. Makes one serving.
Looking for some other healthy ways to incorporate more vegetables into your day? Try these great recipes: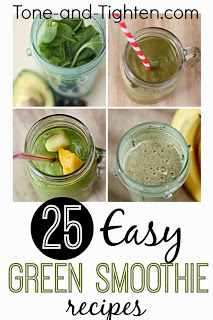 Looking for a way to get more fruits and vegetables in your diet? That is why I am such a big fan of Green Smoothies
! Here are 25 of my most favorite and simple smoothie
recipes – even the biggest skeptics have loved these healthy smoothies.